Parashara's Light is the ultimate and the most innovative Vedic Astrology Software for mobile phones & tablets! It encompasses the richness of the ancient vedic classics and also provides access to powerful research oriented tools.
Uniqueness
The World's Largest Astrology Software which supports almost every astrological calculation and methodology.
Accuracy
100% Accuracy of calculations (authenticity certified by the Lal Bahadur Shastri Rashtriya Sanskrit Vidhyapeeth). 100% accurate planetary algorithms to one second of arc precise are based on data supplied by NASA (USA).
User Friendliness
The most user friendly astrology software, where one can access virtually any astrological calculation instantly, on the same screen, by simple clicks on the well illustrated Tool Bar. The entire software is customizable according to one's own preference and choice.

Screens
The Only software with hundreds of extremely user-friendly screens. All the screens can be customized by users according to their own preference and choice. Support for 7 different screen layouts.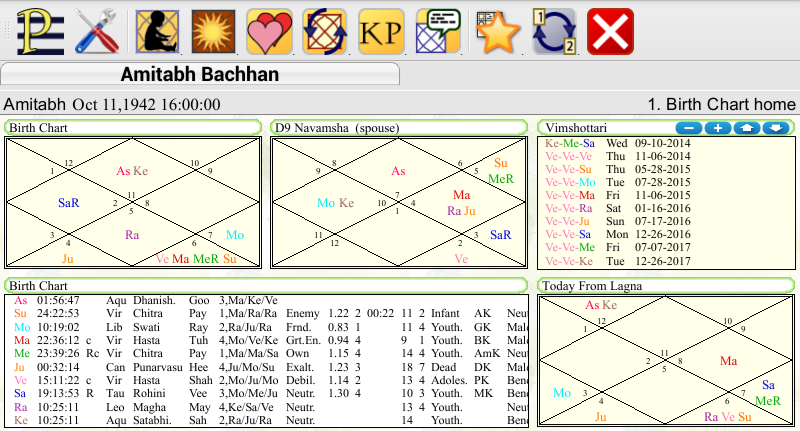 Numerous Options
Numerous calculation options can be set by users themselves according to their own preference e.g. Rahu/Ketu - True or Mean, Karakas - Including or Excluding Rahu, Sunrise - Centre or Edge of Sun etc.
Birth Data Entry
The only software with inbuilt Latitudes and Longitudes of 50 lac cities and locations (with automatic lookup of Time Zone, DST, LMT, Sidereal Time etc.), automatic conversion of Hindu Calendar dates into English Calendar dates.
Chart Styles
Beautifully designed, colored and customizable charts available in North Indian, South Indian, Circular, Bengali and Oriya chart styles.
Languages
Available in English, Hindi, Gujarati, Marathi, Bengali, Kannada, Tamil & Telugu languages.
Unique Change Time Tool
Extremely useful "Change Time Tool" for analyzing various charts and their calculations by making miniscule changes in time to the second. Calculations can be viewed on screen for any time by simply clicking on "Change Time Tool".

PDF Output
Support for exporting output to PDF that can be e-mailed or printed.
Miscellaneous
More than 100 colorful Astrological graphs and tables, Astronomical details etc.
Ayanamshas
Lahiri, Sayana, Krishnamurti (Old & New), Yukteshwar, Raman, Bhasin, Fagan and User Defined Ayanamshas.
Birth Charts
Rashi Chart, Sun Chart, Moon Chart, Karakamsha (Birth), Karakamsha (Navamsha), Ghatika Lagna, Bhava Lagna, Hora Lagna, Bhava Sripati, Bhava Equal, Sunrise Chart, Navamsha Ages Chart etc. with all planetary and nakshatra details.
Divisional Chart
20 Divisional charts & 10 Iyer Divisional charts with all planetary details and nakshatra details.
Planetary Details
Degrees, Declination, Retrogression, Combustion, Nakshatra Details (Pada, Lord/sub-lord/sub-sub-Iord), Mrityu Bhaga, Shastiamasha, Predominance, Argala, Rays, Lordships, Shadvarga Elements, planetary details available for all types of charts.
Basic Calculations
House Cusp Details, Planetary Friendship - Maitri (Naisargik, Tatkalik, Panchadha), Nakshatra Tara Chakra, Shodashvarga Summary (Signs, Dispositors, Dignities), Detailed Balas (Shad Bala, Bhava Bala, Vimshopaka Bala) available both in graphical and numerical formats, Graphical and numerical Aspects (to and from Planets & Bhavas), 5 types of Avasthas (Jagradadi, Baladi, Lajjitadi, Deeptadi, Shayanadi), Sade Sati Calculations, Rahu Kaala etc.
Panchanga Details
Hindu (Both Chaitradi & Kartikadi) Calendars, Avakhada Chakra, Ghat Chakra.
Sub Planets & Special Points
Uranus, Neptune, Pluto, Gulika, Pranapada, Dhoom, Vyatipat, Parivesh, Chapa, Upaketu, Indu Lagna, Yogi point, Yogi-Avyogi, 64th Navamsha, 22nd Dreshkana, Sarp Dreshkana etc.
Dashas
27 types of Dashas (including Vimshottari, Ashtottari, Kalchakra, Chara, Sthira, Yogini, Narayana, Shool etc.) up to Prana level, each of which can be calculated on any planet, on any varga chart and for any time period. Numerous Dasha Calculation options (like 360/365.25/327.85 Dasha days, Dasha balance by degree or by time, Chara Dasha method by K. N. Rao or by Parashara, Kalchakra Dasha options).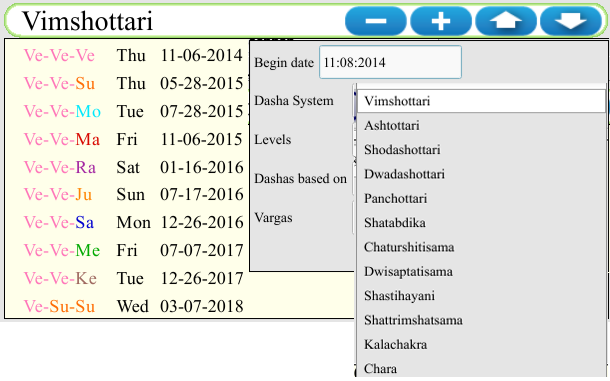 Ashtakavarga
Bhinnashtakvarga, Prastarashtakvarga, Sarvashtakvarga (both Parashara & Varamihira methods), Reductions/Shodhan (Trikona, Ekadhipatya), Ashtakavarga of Divisional Charts etc.
Gochara (Transits)
Transit charts for any location and for any time, Animated Transits for even slightest change in time by one second, Transits relative to Birth charts and Divisional charts, Transits corresponding to, Gochara Kaksha, Dasha balance and Ashtak-avarga at time of transits, Gochara Timeline, Dashas, Divisional charts of Transits, all calculations (planetary, nakshatra & panchanga) of Transits, Dasha balance and Ashtakavarga at time of transits.
Varshphala (Progression Charts)
Varshphala Charts (based on both True Solar Return & Mean Solar Return) can be calculated on any location with all planetary and nakshatra details, Muntha, Varshesha, Detailed Balas (Harsha & Panchavargeeya), Panchadhikari, Detailed Tajika Yogas, Tripataki Chakra, Vedhas with their results, Sahams, all 3 types of Mudda Dashas, Patyayini (Patyamsha) Dasha, Varshphala Strength, Monthly and Daily Charts with all these calculations etc.
Prashna
Prashna Charts with their divisional charts and all planetary and nakshatra calculations.
Compatibility (Horoscope Matching)

Charts with planetary details & dashas of both. Auspicious and inauspicious relative positions of planets in both charts, Ashtakoota Guna Milaan, Detailed Dashkoot, Guna Milaan (Kalaprakashika method, B V Raman method) and Rashi based compatibility etc.
Jaimini
Jaimini Lagnas (Arudha, Hora, Varnada, Pranpada, Indu, Karakamsha in Navamsha), Both 7 and 8 Karakas, Pada Charts, Jeeva & Deha Rashis, Aayu, Up-pada, Swamsha, Jaimini Aspects,Yogi, Avyogi, Dagdha Rashis etc. All Jaimini calculations are also applicable to Divisional and other charts.
Krishnamurti Paddhati & Prashna (KP & KP Horary)
Krishnamurthi Charts, KP Planetary Table (Sign Lord, Nakshatra Pada, Lord, Sub Lord, Sub-sub Lord etc.), Cuspal Chart, Bhava Details (Placidus System), Table of House Significations (Occupants, Planets in Nakshatra of Occupants, Planets in Nakshatra of Sign Lord, Cusp Sign Lord), KP Significators, Ruling Planets, Fortuna, KP Horary Charts based on question number 1 to 249 etc.
Physical & Health
Physical Characteristics, Nature & Temperament, Lucky points etc.
Classical Interpretations
Classical Interpretations from numerous Shastras, based on Ascendants, Nakshatras, Panchanga Elements, Planets, Lordships, Houses, Yogas.
Life Interpretations
Detailed life interpretations based on several different areas of life.
Yogas
More than 1000 most popular applicable Benefic & Malefic Yogas. Applicable yogas from Brihat Parashara Hora Shastra, Saravali, Garga Hora, Hora Sara & other classical books.
Transit & Dasha Predictions
Transit Predictions based on distance from Natal Moon. Vimshottari Dasha Predictions upto pratyantar dasha level.
Remedies
Detailed Mangal Dosha with results and remedies, Detailed Gem Stone Recommendations (Wearing instructions and Mantras for Life stone, Bhagya Stone and Punya Stone), Sade Sati Calculations.
Varshphala
Yearly predictions based on Varshphala Chart (Varshesha, Muntha, Munthesh etc.), Tajika Yogas & Tripataki Chakra.
Compatibility (Horoscope Matching)
Ashtakoota Guna Milaan, Detailed Mangal Dosha with its results and cancellation, Detailed Dashkoota Guna Milaan (Kalaprakashika method, B V Raman method) etc.